BayStack 450-24T
From JasonAntmanWiki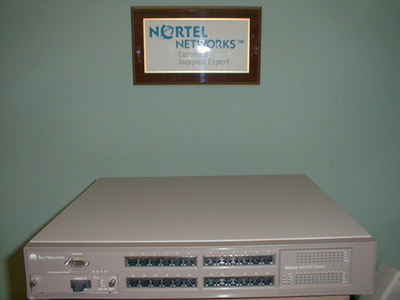 Information on the Nortel/Bay Networks BayStack 450-24T Manageable switch.
Overview
This switch is a 24 port 10/100 switch. It has a serial console interface, and also allows management via Telnet and SNMP. It supports bandwidth throttling, multilink trunking, mirrored (span) ports, etc.
Technical Information
24 ports 10/100, can be individually enabled/disabled, trunked, mirrored, or throttled SNMP management Telnet admin Serial console admin I highly recommend setting *no* password for the serial console in case you lose the Telnet password
End-Of-Life
As per Nortel, "The Ethernet Switch 450 has been Manufacture Discontinued on March 1, 2007. Full support for the Ethernet Switch 450 will end on July 31, 2012" Retirement Bulletin. The major effect of this on users is that software/firmware updates are NO LONGER available without a support contract through Nortel.
Port Mirroring
There's a tutorial about setting up a mirrored port at Tech Republic.
Essentially, from the telnet/serial configuration use Switch Configuration -> Port Mirroring Configuration.
Support